2. VELIKONOČNA NEDELJA - BELA NEDELJA
19. april - 26. april 2020
JEZUSOVO VSTAJENJE SE VIDI V USMILJENJU - pričevanje

Na spletni strani Katoliške Cerkve najdete naslednje novosti:
Pridiga papeškega pridigarja p. Raniera Cantalamesse OFMCap z naslovom »Imam načrte blaginje in ne nesreče« na veliki petek 2020 v baziliki sv. Petra
Nagovor nj. em. kardinala Franca Rodeta ob veliki noči 2020
Velikonočno voščilo slovenskih škofov 2020
Velikonočno voščilo škofa Petra Štumpfa 2020
Velikonočna poslanica škofa Andreja Glavana 2020
Velikonočno voščilo nadškofa Alojzija Cvikla
Spomin na nadškofa msgr. Alojza Urana na TV Slovenija

Film o blaženem Alojziju Grozdetu na TV SLO 1
Protipotresna pobožnost ljubljanskih župnij
---------------------------------------------------------------------------------------------------

Slovenska karitas te vabi, da se kot prostovoljec youngCaritas pridružiš akciji NAŠ KRAJ, NAŠE SRCE.
I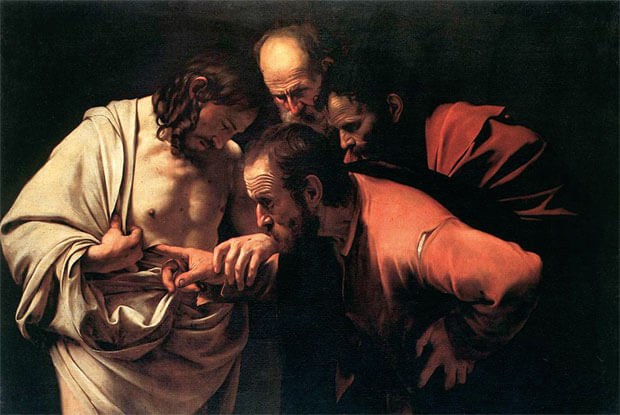 z svetega evangelija po Janezu (Jn 20,19-31)
Pod noč tistega dne, prvega v tednu, ko so bila vrata tam, kjer so se učenci zadrževali, iz strahu pred Judi zaklenjena, je prišel Jezus, stopil mednje in jim rekel: »Mir vam bodi!« In ko je to rekel, jim je pokazal roke in stran. Učenci so se razveselili, ko so videli Gospoda. Tedaj jim je Jezus spet rekel: »Mir vam bodi! Kakor je Oče mene poslal, tudi jaz vas pošiljam.« In ko je to izrekel, je dihnil vanje in jim dejal: »Prejmite Svetega Duha! Katerim grehe odpustite, so jim odpuščeni; katerim jih zadržite, so jim zadržani.«
Tomaža, enega izmed dvanajstérih, ki se je imenoval Dvojček, pa ni bilo med njimi, ko je prišel Jezus. Drugi učenci so mu torej pripovedovali: »Gospoda smo videli.« On pa jim je rekel: »Če ne vidim na njegovih rokah rane od žebljev in ne vtaknem prsta v rane od žebljev in ne položim roke v njegovo stran, nikakor ne bom veroval.«
Čez osem dni so bili njegovi učenci spet notri in Tomaž z njimi. Jezus je prišel pri zaprtih vratih, stopil mednje in jim rekel: »Mir vam bodi!« Potem je rekel Tomažu: »Polôži svoj prst sèm in poglej moje roke! Daj svojo roko in jo polôži v mojo stran in ne bodi neveren, ampak veren.« Tomaž mu je odgovóril in rekel: »Moj Gospod in moj Bog!« Jezus mu je rekel: »Ker si me videl, veruješ? Blagor tistim, ki niso videli, pa verujejo!«
Jezus je vpričo svojih učencev stóril še veliko drugih znamenj, ki niso zapisana v tej knjigi; ta pa so zapisana, da bi vi verovali, da je Jezus Mesija, Božji Sin, in da bi s tem, da vérujete, imeli življenje v njegovem imenu.